This summer, Century Foundation Senior Fellow Danny Weiss sat down with ten freshman members of Congress to learn more about what motivated them to run for office and what their priorities are now that they are serving, including issues that are also priorities at TCF. Danny had a long career in the House of Representatives, serving most recently as chief of staff to Speaker Nancy Pelosi. This essay and the ten short videos based on the interviews are intended to help us better understand this historic freshman class and the deep changes they are determined to make.
---
In June of 1987, at age 47, Nancy Pelosi became a freshman member of Congress from San Francisco. Later that summer, Katie Hill was born.
Pelosi, of course, is now Speaker of the House, the first woman ever to hold that position. And Hill? At age 32, the daughter of a policeman and a nurse, she is where Pelosi was thirty-two years ago, serving in her first term as a freshman member of Congress, except Hill's district is in southern California and had been in Republican hands for the past twenty-five years.
Hill is a member of the historic freshman class of the 116th U.S. Congress, one of the many "droplets" that Pelosi correctly predicted last year would form the "Blue Wave" election that returned House Democrats to power after thirteen years in the minority, two years after Donald Trump was elected president.
Those droplets amounted to the largest net pickup of Republican seats by Democrats since the famous Watergate class of 1974 was elected in reaction to Richard Nixon and the Vietnam War. Altogether, of the current House of Representatives' 435 members, there are 30 Republican freshmen and 62 freshmen Democrats—43 of whom flipped a Republican seat.
Much has been made, deservedly, about this freshman class: its size, diversity, youth, education, and broad ideological range. Thanks to the freshman Democrats, the current Congress is the most diverse ever. More than half of the new Democratic members are women, while only one new woman joined the Republican ranks this year. For the first time in history, on the 100th anniversary of the women's right to vote, there are now more than 100 women serving in the House (89 Democrats and 13 Republicans). Twenty-one of the freshman Democrats are people of color, while that is true of only one of the new Republicans. And the Democratic freshmen have lowered the average age in the House by ten years.
TCF's Headline Makers of the Century
Now that the new members are settled in, have participated in hearings and markups, introduced—and even passed—some of their first bills, The Century Foundation sat down with ten progressive House freshmen to learn more about their motivations, hopes, and priorities. In a series of short videos we are calling Headline Makers of The Century, being released today and over the next two weeks, we hope to convey the passion and skills these lawmakers bring to their jobs, their unique perspectives, and their common bonds.
Our ten "Headline Makers" range in age from 31 to 63, come from urban and suburban communities, are African American, Hispanic, Native American, white, male, and female. They include a lot of "firsts." Deb Haaland is one of two Native American women who are the first ever elected to the House. Veronica Escobar is one of two Latinas in the House, the first ever elected to Congress from Texas. Ayanna Pressley is the first African American woman elected to Congress from Massachusetts. And Joe Neguse is the first American-born child of African refugees ever to serve in Congress.
Some have served in elected office before, like Joe Morelle, who was the New York State Assembly Majority Leader, Jesus "Chuy" Garcia, an Illinois State Senator, and Pressley, a Boston city councilwoman. Andy Levin, formerly a labor union activist and state official, is the son of a retired long-serving congressman. Still others worked for change in the nonprofit sector, like Katie Hill and Susie Lee, while Pressley and Lori Trahan served as congressional staffers, among their other careers.
Despite their diverse backgrounds, there is much that unites them. They are idealistic but not naïve about the challenges ahead. They are largely working within the system to advance their priorities but are not afraid to challenge their party leadership when they feel that is appropriate. They lean on each other for support. And, they each express a sense of urgency for change—on climate, the role of young people in politics, and on having diverse voices at the policymaking table.
They have substantive and sometimes overlapping priorities, including the importance of strong labor unions and a high quality education system to reach the middle class; the need for everyone, not just lower-income and people of color, to be concerned about economic and racial inequality; and the critical need to invest in community colleges, public universities, and advanced job training. They are working to safeguard voting rights and boost youth voting, create jobs and raise wages, protect the environment and people's access to affordable health care, rethink housing and transportation policy, and stop violence against women, including the largely hidden but deadly violence against Native American women.
I worked in the U.S. Congress for a long time. During my more than twenty-eight years serving two powerful members (Chairman George Miller and Speaker Pelosi), I saw a lot of freshmen come and go. There were highs and lows. Each election brought great anticipation—how many seats would be won or lost, what talents would be acquired, and what expertise would vanish. George Miller, battle-hardened after decades playing legislative offense and defense on three committees and in House leadership, would eagerly refer to each incoming freshman class as "reinforcements."
By all measures, this year's reinforcements are "fired up and ready to go." They have arrived in sufficient numbers and with ample talent and ideas to help begin to challenge the corruption and indifference that has corroded our democracy and denied opportunity to too many and for too long. It will take more "blue waves" to really reverse the damage that has been done, but this freshman class of the 116th Congress is already making its mark and is worthy of the acclaim it has drawn.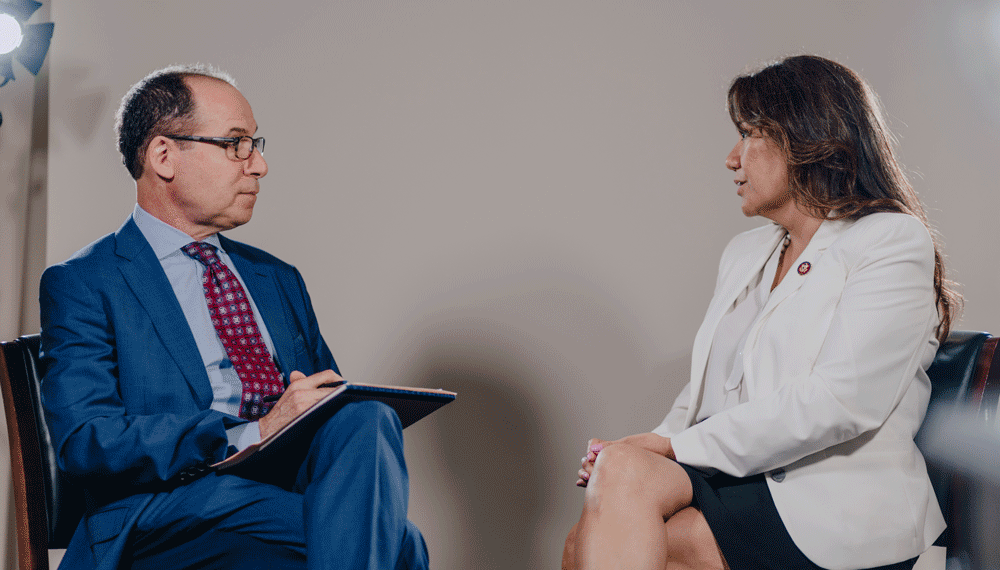 We greatly appreciate the time the Headline Makers spent with us, and we hope you enjoy this video series. We also invite you to share your own Headline of the Century at tcf.org/headlines. We are collecting headlines from people of all walks of life as The Century Foundation marks its 100th anniversary this fall and plans for the century ahead.
And just like Katie Hill thirty-two years ago, someone was born this summer who is destined to carry on the legacy of fighting for progressive change in America. The question will be whether that "someone" inherits challenges left unresolved, or did this freshman class pave the way for the solutions we desperately need?
No pressure, freshman class! And good luck.
Editor's note: Representative Katie Hill announced her resignation from Congress on October 27, 2019.