Ama Agyekum remembers feeling overwhelmed when, as a sixth grader, she entered the Byers campus of the Denver School of Science and Technology (DSST). "I'm a shy person when it comes to getting to know people," she explains.1 All her friends planned to go to other schools—ones that her father found unimpressive. When her father asked her fifth-grade teacher for a different middle school recommendation, the teacher pointed out that DSST public charter schools were particularly strong and were located throughout the Denver area. The daughter of Ghanaian immigrants, Ama struck a compromise with her parents: she would give DSST a try, and if she was unhappy, she could transfer.
At first, she found the work and environment daunting in comparison to her elementary school. "[DSST Byers] had such high expectations of me," Ama recalls. "I'm supposed to get my grades up. I'm supposed to be in class all the time. I need to turn in my homework and have good attendance. I had more responsibility as a student, coming here."
But she soon adjusted. DSST maintains several practices and interventions to help its students transition into a more rigorous academic environment, including mandatory tutoring sessions, advisories, and more regimented classroom management styles, all of which allowed Ama to be successful both socially and academically. Her favorite subject is chemistry, and she ultimately wants to be a pharmacist. She credits her teachers for contributing to her drive. "I love being challenged, no matter what. With the teachers' help, I can know my strengths and weaknesses when it comes to learning. I can go deeper in my understanding."
Ama did not transfer, and chose—without prodding from her parents—to continue at DSST Byers for high school. Today she is in the tenth grade, enjoying the small class sizes and a new, diverse group of friends. "I like the community here. Everyone knows your name; everyone knows something about you, and they respect you," she says. Like every community, DSST is imperfect, she points out. She sometimes struggles to feel fully heard and embraced as a black girl at Byers, one of DSST's schools with the highest white and lowest poverty populations. And there are fewer teachers of color than are ideal, she says.
Despite this, she's happy in her school, and feels that the diversity there will prepare her for her future. "We all have different points of views. I try to see others' perspectives, not just my own," she explains, adding that she's learned that the perspectives gleaned from diverse identities of her peers can be an advantage in life if you can learn to understand others as well.
Ama's insights into her diverse learning environment add texture to the DSST charter school network's new campaign, inviting prospective and current students to "Belong and Be Yourself." Behind that cheerful invitation is a highly organized network of education experts working to prove that school integration, educational equity, and academic quality function as complementary, never competing, values in each of its soon-to-be fourteen schools.
The Exceptionalism of Denver School of Science and Technology
DSST's schools are no strangers to academic accolades. In its first year of eligibility, the network was one of three finalists for the $250,000 Broad prize, which recognizes highly successful charter school networks.2 In its most recent listings, U.S. News and World Report named DSST's flagship school, Stapleton High, as the number two high school in the state of Colorado.3 And to put the icing on the cake, the network has enjoyed shoutouts from public figures as varied as former education secretary Arne Duncan, to former presidential candidate Hillary Clinton, to philanthropist and media personality Oprah Winfrey.4
Much of this recognition stems from DSST's impressive college acceptance record and high average test scores (see "Student Outcomes," below). Nearly every school in the network outperforms other schools in both the district and the state, and students of color and low-income students consistently outperform state and district subgroup averages.
Nearly every school in the network outperforms other schools in both the district and the state, and students of color and low-income students consistently outperform state and district subgroup averages.
But DSST, which serves an intentionally diverse yet generally low-income student population, prides itself on more than just its performance on state assessments. Its teachers and leaders emphasize that the network's six core values—respect, responsibility, integrity, courage, curiosity, and doing your best—impact the choices of students and staff alike. From every high school in the network committing to scheduling and completing home visits for each incoming child, to students establishing peer-tutoring to help one another, DSST's balancing of challenging academics and caring philosophy is worth the attention of researchers and educators.
History and Demographics of the School
Denver School of Science and Technology is often referred to as a "homegrown" charter network. The network's founding campus, DSST Stapleton, opened its doors in 2004 with the help of generous funding from the Bill and Melinda Gates Foundation and several smaller donors. The school broke ground on land donated by a real estate company, close to the old Denver airport, with plans for a large residential community that now surrounds the school building.
The school, in part, was inspired by Microsoft chairman Bill Gates's visits with state executives, prompting him to fund the creation of small high schools. When Colorado became a site of funding, then-Governor Bill Owens appointed a taskforce to form a board for this new venture, which in turn looked for someone to create and run whatever school resulted. When Owens and Gates planned for the school, they envisioned it as an equalizing path into STEM fields for girls and students of color.5 A 2002 Denver Post article described it thusly: "The school aims to bridge the cultural digital divide and encourage kids to pursue careers in science, math, engineering, computers, and even biotechnology."6
The school's state of the art facilities and technology reflect this vision. But founding Stapleton principal and current DSST network CEO Bill Kurtz envisioned an even broader imperative for the school. "I was hired by the board to create a school model, and I think one of the things that I knew was important to the board and was important to me was creating an integrated school. A diverse school, diverse by design," he explains. "Can we create a school where there is no majority race, essentially? Where we reflect the population of Denver, and we create a school that is diverse both racially and economically?"
At the time, the newly forming school had the ability to run its own lottery admissions process, so leadership designed a system where 40 percent of seats were reserved for students from low-income backgrounds. And DSST's commitment to integration would not end once students walked through the schoolhouse doors. One of Kurtz's early goals was to reimagine a high school that did not use tracking to sort students. According to Kurtz, an essential question, was "How can we create a single college going track high school for all kids, serving a truly diverse population? Those two things together are probably the revolutionary idea."
One of Kurtz's early goals was to reimagine a high school that did not use tracking to sort students.
Kurtz is correct in his assessment that diverse, untracked schools are rare. Recently, Denver Public Schools has made important commitments to desegregation in a rapidly changing metropolitan area. The Board of Education created a broad Strengthening Neighborhoods Committee charged with making recommendations to the board on how to promote integration in the city's schools in the midst of gentrification, displacement of black and Latinx families, and under-enrollment of white students in public schools.7 Advocates and research organizations hail DPS's enrollment system as a model of parental choice, and argue that it has the potential to mitigate segregation. Denver's schools, however, continue to struggle with segregation—and in diverse schools, tracking that seems to recreate racial and socioeconomic divisions. Denver's famous East High School, for example, maintains a racially and economically diverse student body, and its extensive extracurricular and sports opportunities give students from different backgrounds the opportunity to meet outside of school. However, these students rarely meet in the classroom. The school is extensively tracked, so it is not surprising that its disaggregated test scores show yawning gaps between affluent and low-income students.8
DSST has managed to establish a different narrative. Though student demographics vary between DSST campuses, 69 percent of the students served in the network are eligible for free and reduced-price lunch programs, ranging from a low of 45 percent at Byers Middle/High school in south central Denver to 93 percent at College View Middle School.9 Across the network, about 18 percent of students are black, 56 percent are Latinx, and 17 percent are white. These numbers come close to the district wide enrollment demographics, with black students slightly overrepresented and white students slightly underrepresented in the DSST network. (Again, there is heavy variance between schools.) Without tracking its students, the network manages to run four of the five highest-performing high schools and five of the eight highest-performing middle schools in Denver. Additionally, it, has maintained a 100 percent college acceptance rate for its high school graduates since the start of the network.10
"We should have communities that are strong, and deep, and centered on a commitment to build the next generation of young people. If you don't have a community that looks like the outside world, how can we do that?"
High academic achievement is critical, Kurtz points out, but it is far from sufficient. DSST's mission is as much about creating good citizens as it is about producing college valedictorians. "I've always been committed to saying that we need to create a model that certainly has . . . very high academic rigor, which I think we do have here. But school is largely a social activity. It's a civic forming activity. It is where kids spend most of their time in their early lifetime. So we should have communities that are strong, and deep, and centered on a commitment to build the next generation of young people. If you don't have a community that looks like the outside world, how can we do that?"
Building and Maintaining Diversity
DSST's rapid expansion from one to fourteen schools required the network to take a more systematic approach to attracting and keeping diverse families in its schools. Today, the network is largely run through a home office located in a space away from DSST campuses and filled with program administrators and initiative leaders. In addition to setting curricula, hiring and recruiting new talent, and financing the network, DSST's home office also takes the lead on efforts to attract diverse prospective families to all campuses.
To accomplish this, the marketing and communications teams have had to cultivate a deep understanding of Denver's changing neighborhood demographics and the stated needs of families that, if not for the network, might rarely encounter each other. DSST Public Charter Schools is chartered under Denver Public Schools, which itself employs an open choice, single enrollment system. Unlike when DSST first opened, the schools in the network cannot run their own lottery, but rather enter into the DPS system (though they can retain their 40 percent weight for low-income students). Under this system, parents have access to information about magnets, charters, innovation schools, and traditional schools, and can select any of these options on a single application. If parents do not make a choice, their default placement will be a neighborhood school.
Heather Lamm, Director of Communications at DSST, says that the DPS system has been working well for the network thus far. "We are very lucky in Denver that a parent will have the same access to a charter school as they will to any traditional school. We still have to recruit very hard because ours are not default schools in almost any cases, but we're lucky in Denver to have access to students and families to make sure that they know that there's another possibility out there," she says.
Despite its productive relationship with DPS, DSST's recruitment team has had to continuously adjust its approaches. "Our efforts at recruitment have really shifted in the last few years as enrollment trends in Denver are changing. We've really had to rethink our strategy with recruitment," says Lamm. When DSST schools first began to open, parents from all backgrounds flocked to the high-quality, free public schools. While most of the campuses in the network still have wait lists at the end of the recruitment period, the student and family outreach specialists must be intentional about making sure that the lottery pool is diverse enough to yield an integrated student body in every school across the city. Each neighborhood presents a slightly different challenge. "We have about three different challenges: Why are [affluent Stapleton-area parents] not choosing us; how do we make sure we get more low-income families to Byers, and how do we think, if possible, we can recruit back some of the folks in the southwest who are opting out of the district altogether?" asks Lamm.
The team runs different advertisements on Spanish-speaking radio and on Colorado Public Radio, places ads on buses in certain regions, hosts multiple tours and open houses, and attends an enormous number of events.
The team runs different advertisements on Spanish-speaking radio and on Colorado Public Radio, places ads on buses in certain regions, hosts multiple tours and open houses, and attends an enormous number of events. Those campaigns look different for each school, largely depending on the type of families that need to "choice-in" in order to approach that campus's student diversity goals. The teams and teachers also commit to calling around 200 families that fit into target demographics that they want to attract. At Byers, leaders will seek out low income parents and families of color; at Stapleton, this approach might mean that affluent white families will receive a call. Lamm says that it is often harder to attract middle income families than lower income ones.
Some of these strategies developed as a result of a recent survey, administered by DSST, of more than 2000 families across the socioeconomic spectrum. Some of the findings were expected, like how lack of transportation options to DSST Byers—which is located in an affluent area—eliminates it as an option to too many lower income families who might otherwise be interested. However, some results were less expected. To reach the "sweet spot" of students who qualify for free or reduced lunch, which the school defines as between 55 and 65 percent, DSST first sought to find unifying language and desires among prospective families. Prior to the survey, DSST had pushed language about its academic rigor and perfect college acceptance rate. But the results revealed that an emphasis on 100 percent college acceptance for everyone failed to resonate with more privileged families, who often assumed that their child would be college-bound at any high school option. However, the results did indicate that all parents, regardless of background, valued a close-knit, supportive community and teachers that knew and were committed to their children. The network's newest campaign "Belong. And Be Yourself," arose from this discovery, emphasizing that DSST is a place where creativity is welcomed, and acceptance is commonplace.
This marketing focus on community may also help retain students as they transition between middle and high school and re-enter the lottery process. Brittnee Merritt, coordinator of marketing and communications for the network, points to the need to keep eighth grade students excited, engaged, and aware of the differences between middle and high school. DSST is thinking of ways to facilitate more interaction between older middle-schoolers and ninth and tenth grade students. "Our middle schools are very structured…In high school it looks completely different. There's more freedom," she explains.
While the network is both proud of and committed to its founding principals of school integration, it does not feature those words when describing itself to families it seeks to attract and retain. "What we found from our marketing was that parents love the idea of diversity—but not too much. That's the sadness about our society right now: diversity has to look like a certain thing. There are too many people out there that want 70 percent of the school to look exactly like them, and 30 percent could be different, but when it switches over, and they're in the minority group, they say 'That's too diverse,'" Lamm explains. "We will not change our approach because of that, but you have to realize what you're getting into." The home office prefers to describe diversity as placing kids in a community where they will be surrounded by other children from all walks of life. "No matter what parent you're talking to—black, white, Hispanic, Spanish speaking—parents love the idea that their child is getting the skills to actually survive and thrive in this world." And essentially, that's what the "Belong, and Be Yourself" rebranding is all about—raising well-adapted and well-supported children.
Student Outcomes
DSST schools are some of the most awarded schools in the nation. Among the top performing schools in the state of Colorado, the network is known for the high test results achieved by low-income students and students of color. In fact, DSST students who qualified for free or reduced price lunch had a higher average SAT score in 2017 than did that of all Colorado students who did not qualify for federal meals programs.
Overall, DSST students also perform consistently well on state standardized tests. Most of DSST's current schools far exceed the state's mean score on the annual CMAS exams in English Language Arts, Math, and Science. Those that do not—DSST Henry Middle, Cole Middle, and College View Middle—approach the state mean and produce scores that demonstrate higher than state average performance for most student subgroups, including English language learners, free or reduced price lunch- eligible students, and minority students.11 For example, at Henry, DSST's most recently opened middle school campus, overall student performance lagged behind the 2017 state average in English (742.0) and in Math (731.9).12 But English Learners (735.6 at Henry versus 727.9 statewide), FRL eligible (733.1/728.0), and minority students (733.4/732.7) outperformed their peers on the English Language Arts exam and met or closely approached the averages on the Math portion of the test.13
Performance was more consistently impressive at DSST's most established schools, Stapleton and Green Valley Ranch (GVR). The Stapleton and GVR campuses, consisting of both a middle and high school at each site, show that diverse schools—and schools where low income and students of color outnumber their more privileged counterparts—can be excellent. At GVR's high school, not only did the overall student population's score exceed the state average in math (749.7/731.4), English (745.8/736.0), and science (677.8/592.0), but every subgroup (apart from special needs students, for which data was not available), outperformed the state average for both their subgroup and for the overall student population. In English, every subgroup for which data is available met statewide expectations for all students; in both math and science, all subgroups exceeded expectations. At DSST's flagship school, Stapleton High, students in every available subgroup met or exceeded expectations on math and English CMAS assessments, and like GVR, the average scores of all Stapleton High students were significantly higher than the state average (759.1 versus 736.0 in English, 763.2 versus 731.4 in Math, and 699.2 versus 592.0 in Science), and every subgroup handedly beat the state average as well.14
Figure 1
Figure 2
Given the high academic performance of these schools, it's no surprise that the rates at which DSST students continue on to postsecondary education are also higher than the state average. Currently, Stapleton and GVR are the only two DSST campuses that are old enough to have graduated a class for which data could be collected. Almost 80 percent of GVR students go on to higher education—with a 1.1 percent continuing to Career and Technical Education, 9.1 percent heading to two-year colleges, and more than 69 percent matriculating at four-year schools. At Stapleton, where more than 82 percent of students continue to higher education, 80.6 percent choose to attend four-year schools.15
DSST's Unique Approach: Building a Culture of Excellence and Equity
It's Spirit Week at DSST Byer High School, and today is beach day. Ninth and tenth graders flow into the grand central Denver building, exchanging hellos and Hawaiian leis before they make their way into the cafeteria for morning meeting. This daily ritual brings together all students in the same grade in order to intentionally build community—to celebrate each other's accomplishments, play team-building games, and discuss the ways that current events impact their lives. Any student can raise their hand to make an announcement; any can compliment any other student. This morning, the girls' basketball team and the choir get shout-outs by their peers, and a teacher discusses how being a college athlete taught her to balance passion and obligation. Past morning meetings have focused on heavier topics, such as equity versus equality, LGBTQ resources for students, and HBCUs as college options.
The students, sitting cross legged on the floor, reflect the community that DSST wants to build. They are racially and ethnically diverse, but they listen to one another intently. Students of all backgrounds and genders seem to feel empowered to share out to the group. More than a time of announcements and reminders, morning meeting seems to be an exercise in democracy.
High performing and incredibly popular, DSST is still figuring out how to serve the highest-need students, balance high expectations with compassion, resist academic tracking, and expand—while still maintaining its character.
But like all democracies, DSST's schools are simultaneously impressive and imperfect. High performing and incredibly popular, DSST is still figuring out how to serve the highest-need students, balance high expectations with compassion, resist academic tracking, and expand—while still maintaining its character.
Building an Academic Model for Everyone
Despite the significant demographic and outcome differences between DSST schools, their common curricula, academic structures, and assessments are remarkably similar, much of which is designed by DSST's home office. Susan Barrett, the senior manager of humanities at the home office, describes DSST as "a liberal arts network with a STEM focus." Schools in the network use a semi-block schedule, in which some courses meet every day and some meet every other day. In middle school, the majority of student time is focused on reading, writing, math, and science, with social studies, arts, and electives available as well. The high school program continues this, but adds mandatory Spanish, an internship requirement, and a senior project. True to its name, all DSST students are required to take five years of high school science to graduate, compared to the three required by the state. Every high school also has a college success curriculum that strives to help students explore college options.16
As students move into higher grades, they gain more academic and behavioral freedom and flexibility. This transition is striking in cases in which DSST's middle and high schools are co-located or located directly next door to one another. Middle school uniforms are more rigid, students are expected to move more quickly through the hallways and common spaces, and classroom management choices resemble some of the techniques used in schools thought of as "no excuses-lite." Teachers in the middle school often use timers to monitor how long students spend on an assignment and to encourage them to focus on completing work. At the start of several classes, teachers put three minutes on the board for students' "do now" activities, questions that they must answer at the start of class, during which period they are not permitted to talk. Students are sometimes reprimanded for failing to "track" the teacher with their eyes; that is, to prove that they are paying attention by actively looking at the instructor as they are speaking. A seventh-grade girl at Green Valley Ranch raved about her school but lamented the strictness of some of the rules. "You have to wear a belt, and if you're missing a belt, you get a silent lunch. We have the first three [minutes] and the last three [minutes] of class, which is when we pack up…we're not allowed to talk then. But that could be a good time for socializing," she explained.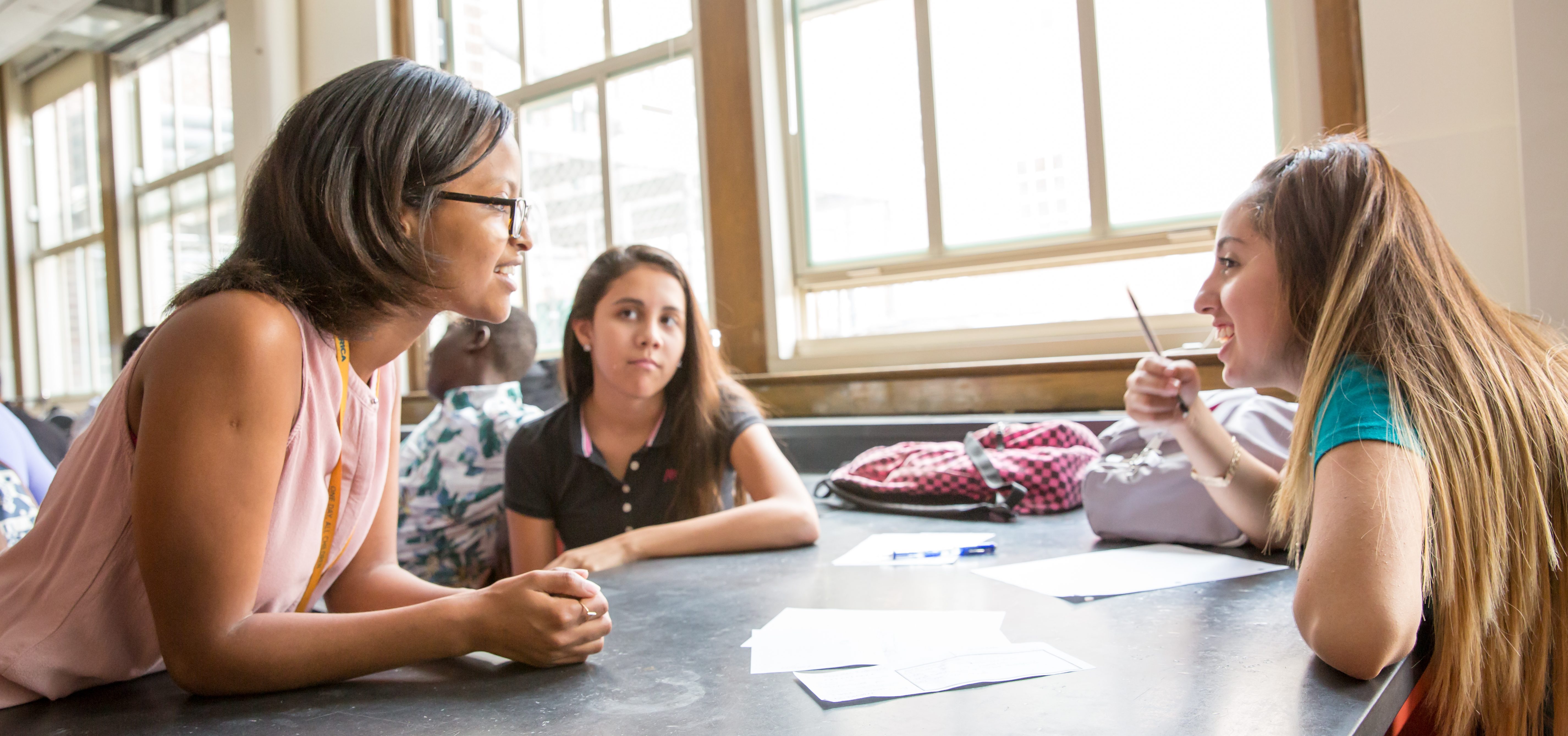 At the high schools, while still maintaining high expectations and academic rigor, students earn more autonomy. Byers High sophomore Christian Munoz, who also attended Byers Middle, points out that students "have a lot more voice in high school. If we see something we're not necessarily happy about, or something that we'd like to see improved, we have a say." The uniforms disappear, and classroom management styles notably loosen. DSST calls this increasing shift of responsibility to the students "gradual release."
In order to measure student growth and achievement, the network's schools tend to rely heavily on academic assessments. The frequent tests seek to measure individual student performance as well as that for the classroom, and are disaggregated to understand which content areas might need reinforcement or advancement. If a student struggles in a particular unit, the teacher can require the student to attend mandatory tutoring—a free, on-site, after-school block. Mandatory tutoring is in no way a punitive intervention, but the network has other established interventions—Refocus and College Prep—that are mandated in response to misbehavior or negligent academic behavior (such as forgetting homework assignments).
Because the network schools do not screen for academic preparedness prior to admitting students, DSST students arrive at the school with varied levels of skill.
Because the network schools do not screen for academic preparedness prior to admitting students, DSST students arrive at the school with varied levels of skill. Though all incoming sixth graders are either required or strongly encouraged to attend DSST summer school prior to the academic year, this preemptive intervention does not close all preparation gaps. DSST's frequent testing, in part, helps teachers and administrators identify performance trends across groups, and in some cases, make determinations about a student's course placement. With a goal of maintaining a diversity of strengths and needs in each classroom, DSST uses standardized Measures of Academic Progress (MAP) assessments to evaluate students each trimester, placing them into performance bands in order to help teachers more directly address diverse needs within the same classroom. Dan Sullivan, director of the middle school at DSST Stapleton, explains: "After [students] take the first trimester, we analyze student performance for every class. We ask teachers to break down their students' performance on their final by all [major subgroups]: class sections, performance bands, as well as just individual students." The schools then spend several days after finals analyzing the data and determining strategies to uplift struggling students and differentiate instruction.
Lela Wilson, a science teacher at DSST Stapleton's high school, says that the school's instructional coaches support teachers in designing and running differentiated but de-tracked classrooms. In Wilson's classroom, that looks like strategic student partner work and some scaffolding for students with English language learning needs. "I try to seat the kids so that they're interspersed, so they can work with a partner at a different level. And then I try to incorporate a lot of opportunities to explain something to the partner, or to work with that partner. I'll also do some scaffolding for English language learners. For instance, I'll have a class packet for everyone, but then another that has some word definitions on it if there are a lot of new words," she explains. Teachers will also do some whole-class differentiation, where they might temporarily split the class into smaller groups, having one section working independently, another on enrichment, and yet another receiving more direct instruction from the teacher. Teachers across the network are evaluated on their skills at classroom differentiation, but only after meeting with and having non-evaluative visits from their instructional coaches.
Due to its emphasis on in-class differentiation and its commitment to equity within their schools, student tracking is not a major part of the DSST model.
Due to its emphasis on in-class differentiation and its commitment to equity within their schools, student tracking is not a major part of the DSST model. Dan Sullivan claims that one key to the network's success is its insistence on holding all students to very high standards. "We try to set the bar very near the top and really think about all of the scaffolds rather than setting a lower bar and thinking about challenging the kids who are up," he explains. To ensure that all students reach those standards, schools across the network use varied interventions in addition to mandatory tutoring. Some schools have separate pull-out math or reading enrichment; others might conduct push-in reading interventions during social studies classes. Schools also employ English language development coordinators to assist students with English language learning needs.
Despite these efforts, tracking does exist in mathematics, especially at the high school level. Students can test into advanced math in the eighth grade, and there are multiple mathematics tracks in high school. Students entering in the ninth grade can either take Integrated Algebra/Geometry I (which will place them in precalculus in the twelfth grade) or a more advanced course such as Integrated Algebra/Geometry II or Algebra II, which usually gives students the opportunity to take AP Calculus AB or BC their senior year. All graduates of DSST are required to have completed precalculus, which is often considered a gatekeeper course for math and science majors in college.
The racial and socioeconomic effects of this tracking vary between schools. Madison Shipley, a high school math teacher at Green Valley Ranch, observed that, when she visited the Stapleton campus several years ago, the most advanced math classes were disproportionately filled by white students. But that's not the case at GVR, she says. First, the demographics are such that it would be difficult to see have white students dominate the most advanced classes. "You see students of all colors in every single level of the tracking system," she points out. She does notice, however, that fewer female students both place into the most advanced math and choose to take additional math courses, and that ELL students are disproportionately in the least advanced track. Currently, the school is focusing on these populations and brainstorming solutions. The network does, however, provide the opportunity for Spanish speaking students, ELL or otherwise, to guarantee AP experience and credit: native Spanish speakers are tracked into AP Spanish and will graduate with that credit, along with advanced non-native speakers.
In every track, DSST struggles most with the academic performance of students with disabilities. At several schools in the network, the numbers of special needs students are so small that the state does not publish performance data for that subgroup, leading to questions about retention or pushout of this population of learners. Adding to the concern is the comparatively low graduation rate of special needs students at the schools where such data exists. In the class of 2016 at Green Valley Ranch High, during which time the school had a SPED population of only 3.1 percent (compared to 10.7 percent that year in Denver Public Schools), only 25 percent of students with disabilities graduated within four years.17 It is worth noting that DSST, compared to most schools, is more likely to hold students back for further academic preparation, and the five- and six-year graduation rate was not available for that subgroup.
Several schools in the network do have "Center Programs," or specialized programs for students with additional specific needs. At Stapleton, for example, the school hosts a Center for children with autism. These students may or may not participate in general coursework with the rest of the student body, depending on their Individual Education Plan. But the staffing of special education teachers and paraprofessionals seems to vary between schools, and generally appears to be on the low side. Moreover, Shipley has observed that attrition rates might be elevated for students with disabilities. "I see support classes with students with IEPs in the ninth and tenth grade having fifteen, maybe twenty kids, and by the time they reach the twelfth grade, it's only a couple of kids. They trickle out," she claims. "I would argue that we haven't done a good job supporting these students. We have one special education teacher and a para. I think that's part of the problem—it's way too much for one person to handle." She says that the school hired another special education teacher last year—but then the other went on maternity leave, so they've seen little practical change in staffing for now.
Supporting Rigor with Nurture
Across the Denver region, DSST's network is known for a rigorous curriculum that produces high academic results for its students. While true, DSST's leadership insists that its foundation is built on more than that. "Building a great academic high school, which is very important, without building a strong culture of values and beliefs I think is a very dangerous thing," CEO Bill Kurtz asserts. "We have lots of really strong academic high schools in this country that serve privileged populations, who turn out frankly arrogant kids."
"We have lots of really strong academic high schools in this country that serve privileged populations, who turn out frankly arrogant kids."
The network's commitment to producing not just academic powerhouses but also thoughtful people means that the school must both model for students how to be a citizen of a diverse community and also recognize social and inequities that students might experience.
Advisory
One way that the school encourages relationship building is through "advisory," or a twice-per-week block of unstructured, non-academic time that students spend in small, same-gender, and intentionally racially and socioeconomically diverse groups. Advisors—teachers in the schools who are assigned to this small group for at least one year—are both facilitators of activities and discussions and advocates for students in disciplinary or academic endeavors. Madison Shipley says that running her advisory of thirteen eleventh and twelfth grade boys is perhaps her favorite part of working at DSST. While she's cultivated a good relationship with several students who were previously in her classes, she says, "being their advisor has made us so much closer than just being their teacher did. . . . When they get accepted [into college], I'm the first person they tell. That kind of stuff is really fun and makes all of their shenanigans throughout the year worthwhile."
Advisory blocks might involve everything from playing games and teambuilding activities, to offering stressed students additional time to study or complete work, to having speakers come in to lead important conversations. Lela Wilson's advisory group of ninth and tenth grade girls has had talks from Planned Parenthood and Mothers Against Drunk Driving this year, but some of the most meaningful experiences have been when the girls spend unstructured time with one another. "Advisory is supposed to be bonding and fun, so this week, we just finger painted," she says.
In all schools, advisors also check in on students' academic and social progress. "A big part of what we do is checking in on their grades. When I do grade check-ins, I'll have individual conversations with each student, bring up their grades and say, what's going well, what's going wrong?," Wilson explains. Shipley agrees, adding that the advisor also helps students set goals regarding GPA and college acceptance.
In addition, advisors often advocate for students, even to other teachers. Lela Wilson: "If a student has something missing, I'll encourage them, 'What can you do to get this done?' But also I've had some students who say, 'I've talked to this teacher three times about doing this,' and then I can go and talk to that teacher on their behalf." This function is important because not every child has a parent that can and will advocate on their behalf, says Wilson. "It seems like a really good thing that every student has at least one teacher to advocate for them."
Closing Discipline Gaps
Despite DSST's commitment to equity, sizable racial and ability gaps in disciplinary referrals and actions persist. A 2015 report cosponsored by Padres & Jóvenes Unidos (in English, "Parents and Youth United"), Colorado-based civil rights advocacy groups, determined that several DSST schools not only had higher than average in- and out-of-school suspension rates, but also some of the widest racial disparities in terms of who received those sanctions. According to that report, DSST College View Middle, in particular, emerged as having some of the highest suspensions, law enforcement referrals, and racial disparities in the entire DPS system.18
Dan Sullivan, director at Stapleton, says that school and network leaders are aware of this, and are focused on cutting down the numbers of unnecessary disciplinary actions and reducing racial disparities. "Our mission is to end educational inequity, so if we have disproportionality in our discipline systems, then we aren't even ending it in our own building during the day. And we aren't," he admits. Administrators at Stapleton now meet every two to four weeks to assess the data and share information with grade level chairs. Leadership is also planning professional development opportunities to address potential unconscious bias in classroom management. Stapleton's staff includes a full time school psychologist, but she is the only staff member employed full-time for social-emotional support needs. Deans try to step into that role as well, Sullivan says.
At the Green Valley Ranch campus, administrators are updating the disciplinary referral system to help address its own equity challenges. Currently, students may not be sent to the office without a teacher-issued referral, which should detail the infraction and the prior actions taken. At GVR middle, Quincy "Q" Shannon, the student support coordinator, is tasked with reworking the system to be more "solutions-oriented" (rather than punishment-oriented.) Himself a young black male, he empathizes with not only the inequity students face, but the feelings that that inequity produces amongst students. "My framework is really trying to stop the school-to-prison pipeline feeling within the school," he explains. "If there's punishment for punishment's sake, students start to feel negatively about themselves," which can become a self-fulfilling prophesy.
Shannon designed a discipline referral document, to be completed by the teacher, that he then evaluates for disciplinary options. In addition to Refocus (DSST's network-wide after-school "reflective" time for in-school misbehavior), he thinks about solutions other than removing the child from the learning environment. "Does this student really need to be pulled out of class?" he asks. "Is this something we can handle after school or at lunchtime? Do I need to contact parents? What is that going to look like?… Are the interventions matching what the students are doing?" During this revised process, students are also allowed to share their side of the story.
With the information gathered, the process then moves to restoration. That can come in the form of a formalized restorative justice opportunity or a simple apology, whether between a teacher and a student or between two students. The goal, Shannon says, is to understand what happened and what needs to occur in the future in order to restore any broken or strained relationships. The final piece involves setting expectations. Shannon emphasizes that this step often requires teachers to modify some of their own practices. "If a student comes to me tomorrow for the same infraction, is it because they weren't meeting an expectation? Is it because the teacher wasn't aware of the expectation? Or is the teacher picking on the student?"
"If a student comes to me tomorrow for the same infraction, is it because they weren't meeting an expectation? Is it because the teacher wasn't aware of the expectation? Or is the teacher picking on the student?"
Even within this system, in-school and out-of-school suspensions remain acceptable practices at GVR and other DSST campuses. Relatedly, racial and ability gaps stubbornly continue. "It's a sad reality that our male minority students are still the group having the most challenges from a disciplinary side. In running some of our statistics, our SPED students—any student identified to have an IEP, 504, or uses any type of SPED service, generally are also at the higher end [of the discipline rate]," says Shannon. "The numbers are going down, but not enough to make us comfortable."
Preparation for College
Students' eventual college success and acceptance is a core objective of DSST schools and is addressed in some way in every class. Additionally, the network implements a separate, unique curriculum exclusively devoted to seeing its students to and through post-secondary education. Consisting of a freshman seminar that introduces them to career interests, a sophomore seminar focused on different college options, eleventh grade individual counseling and research sessions, and a senior college seminar which emphasizes completing applications for college and federal aid, this comprehensive instruction is meant to offer "every student the opportunity to choose college," according to Senior Manager of College Success Jess Palffy.
DSST's 100 percent college acceptance rate indicates that the college application component of the curriculum has been highly successful. However, the other component—college persistence and graduation—needs work: according to Palffy, around 90 percent of DSST graduates remain enrolled in college between their freshman and sophomore years, but the enrollment rates drop significantly after that, culminating in a six-year graduation rate right around 50 percent. (This issue is not unique to DSST: high-achieving charter networks across the country are struggling with how to address this.19) Palffy believes this might be due to undermatching, i.e. when students attend less-competitive schools than their credentials would allow them to, among some graduates. In response, the network is beginning to use data to direct students to schools with higher graduation and retention rates and more student resources—schools that are often more competitive. It calls these schools—those that graduate at least 65 percent of students and have accessible financial aid for low income students— "match schools."
DSST's 100 percent college acceptance rate indicates that the college application component of the curriculum has been highly successful. However, the other component—college persistence and graduation—needs work.
DSST is also adding more content around transitioning to college in the senior college seminar, teaching students practical skills such as when and where to seek help, how to register for classes, and how to fill out financial aid forms. To check in on the effectiveness, the network tries to keep in contact with college-bound students after high school graduation. For example, the network is planning to send students texts reminding them to confirm financial aid, register for orientation, purchase books— or simply expressing excitement about the start of a new semester.
Deeper Learning through Practical Engagement
In keeping with the network's mandate to produce high-achieving students who will go on to serve the Colorado community, DSST high schools require all graduates to secure a formal internship during one trimester of their junior year. Students are expected to work a minimum of four hours per week for ten weeks and participate in an accompanying internship seminar once a week. All high schools currently serving eleventh graders employ an internship coordinator that helps students identify areas of interest and makes placements for all students during their junior year. These conversations begin during a student's sophomore year. Tenth grader Christian Munoz explains: "We already told our counselor at the beginning of the year what we want to do, and then she will finalize it at the end of the year. Next year, she'll look at our schedules [which include athletics commitments and coursework] and let us know when it's best for us to join internship." Students work in a range of environments, ranging from the Denver Zoo, Colorado University Hospital, Teach for America, engineering and architecture firms, and political campaigns. At the conclusion of their internships, students give presentations to the school community about their experiences.
An optional separate venture, DSST's Entrepreneurship Program ("E-Ship"), similarly aims to expose students to real-life applications of what they learn in school. Students in several schools across the network can take entrepreneurship courses as electives starting in the seventh grade. Currently, about 600 students participate in this program. These courses give students the ability to pair creativity with business acumen, all while building confidence as they work in groups to design products or work on actual projects with Colorado-based startups. Jeremy Wickenheiser, founder and director of the network's Entrepreneurship Studies program, says that E-Ship is one way of educating kids for the future. "We are trying to prepare kids for jobs and careers that don't yet exist. The memorization of content doesn't matter in the same way anymore. How can you take it and apply it . . . how can you constantly continue to learn?" he asks.
This type of future-oriented preparation can take many forms. Upper-grade level students often receive assignments designed to teach them to tackle questions that lack known answers. "We might ask students to do a project," explains Wickenheiser, "where they get on a bus—not knowing where they are going—and they head over to a company . . . meet with the chief officer and executive team, and hear about their work. And then they [tell the students], 'We have this problem that we could use some solutions for, and we can't wait to see you in a couple of weeks to deliver us solutions.'" This type of assignment is critical, he argues, because fully preparing students for the real world requires that they be constantly learning and figuring out the unknown.
At only three years old, DSST's E-Ship program demonstrates how the network constantly evolves and expands. Starting in only one grade at one school, a team of four teachers now leads classes in four schools and runs a summer program. The program also benefits from robust financial and visioning support from school and network leaders. In some ways, the entire network demonstrates an entrepreneurial spirit: it attempts to create a new model, takes risks that are data-informed, and intends to continue its growth into new domains.
Growing Pains and Opportunities
If current plans come to fruition, by 2022, DSST will enroll over 18 percent of DPS students across fourteen Denver-based schools on seven campuses. In 2015, the Denver Public Schools board approved a plan allowing DSST to operate as many as twenty-two schools in Denver at eleven campuses by 2025. If this happens, DSST would not only be the largest charter network in Colorado, but its schools would serve around 10,500 students—more than most of the state's school districts.20 Simultaneously, the network will begin its expansion into Aurora, a school district right outside of Denver, building four schools over four years, with the first scheduled to open in the 2019–20 academic year.21 The network and district are currently fundraising for this new location.22
The network will begin its expansion into Aurora, a school district right outside of Denver, building four schools over four years, with the first scheduled to open in the 2019–20 academic year.23
CEO Bill Kurtz knows that expansion into Aurora could pose additional challenges, but feels that the network has a moral obligation to demonstrate that diverse-by-design schools can and do work in a variety of settings. "How could we not do this?" he asks. "We're doubling down on trying to create schools that are diverse. We were very clear with [the Aurora school district] that we both want to serve a significant number of students from the community, but we also want to make sure that we open it up to all of Aurora so that we can start to build a more diverse-by-design model there." Kurtz says that leadership in Aurora supports this vision, though some members of the community are concerned that a greater charter school presence will siphon off too many children from traditional public schools. Unlike Denver Public Schools, Aurora is not an all-choice district. As a result, DSST will need to run its own separate weighted lottery in the Aurora Public School district.
Even before the first Aurora school opens, DSST is preparing to open a new middle school, DSST Noel, in the fall of 2018.24 Located in the slowly-gentrifying but heavily black and Latinx far northeast of Denver, the school is named after Rachel B. Noel, the first African-American woman elected to public office in Colorado in 1965 and a fervent proponent of school integration. Another African-American woman, Brandi Chin, will be the founding director at the new school. Chin came to DSST through its innovative School Director in Training program, which allows potential directors to co-lead a DSST school for a limited time to learn about the model and values before taking over as a full director at another school.
By now, the DSST network is seasoned at the school design process. Chin is working with a DSST coach whose specialty is replicating schools according to the model. "There's a month-to-month cadence that goes with the process so that we know what to focus on," she explains. The first step of the process is to ensure that the community surrounding the school feels heard and involved. "I've done a lot of networking with community leaders, parents, families. Just to say, hey, we are opening a new school and we would love for you to, one, know who we are and what we are about, but we would also love your insight and we would like to collaborate with you in the opening of this school. We want to respect the space and the voices of the people in this community."
Like all schools in the network, Noel will retain high standards and expectations for all students, a commitment to a diverse student body, and all core curricular components. But Chin looks forward to using her knowledge from observing the DSST to really emphasize areas where her school can expand upon the network's mission. Some of these goals are highly academic: for instance, she plans to lead Noel to have a heavier emphasis on unit and lesson planning and data-driven instruction. But beyond the classroom, she hopes to build a school with a more robust emphasis on and commitment to social justice, both on the staff and student levels.
She does not plan to shy away from tough conversations. "We have to talk about race," Chin says, giving one example of a topic she'd like to address. "If we say that we care about and educate black and brown kids, how are we not talking about it when that's part of their everyday lived experience?" Simply hosting a couple of relevant professional development opportunities at the beginning of the year is insufficient, she believes. Social justice "will be a part of the fabric of who we are, why we do this work, and how we do this work."
"We have to talk about race," Chin says, giving one example of a topic she'd like to address. "If we say that we care about and educate black and brown kids, how are we not talking about it when that's part of their everyday lived experience?"
Chin also plans to place greater priority on hiring and retaining a diverse teaching and administrative staff. "Culture has to do with how we hire, so what I'm looking for in a team right now is diversity," she explains. "Not just diversity in race. I am looking for that, but I also want more male teachers. I want black teachers, white teachers, Latinx teachers, Asian, international, veterans, older and younger. My goal hopefully is to build a model of what a diverse staff can really be. It's going to help us in terms of the culture we create for our kids."
Although she admits that there is room for improvement, Chin remains impressed with the network as a whole. Before she came to the DSST from another Denver school, her objective was to serve at a school that produced great results for black, brown, and low-income children. She finds that DSST's value-driven model, steadfast commitment to excellence and high expectations for all, and promise to integrate its schools and classrooms make it unique, successful, and exciting. When DSST Noel opens in the fall, these are the principles that she will carry with her.
Conclusion
In a sixth-grade social studies class at Green Valley Ranch, a diverse group of students sit in a large circle, discussing race and equal rights. The teacher sits off to the side of the class, taking notes and listening intently, but does not lead the conversation. Instead, she watches as the eleven- and twelve-year-olds reference literature as they grapple with the some of the most divisive questions facing our nation. With no adult intervention, students begin asking each other questions, ensuring that their peers of different backgrounds have all gotten a chance to speak. When a black girl looks like she's itching to say something, a Hispanic boy invites her to share her ideas.
These types of conversations, held by diverse students in untracked classes, help DSST realize its goal of producing the next generation of active, thoughtful citizens. The network's identity as a high-performing, intentionally diverse, STEM-focused school is paired with its promise to remain deeply committed to the success of all its students, regardless of background. However, DSST is far from perfect. Its aversion to tracking does not prevent older students from being sorted into different mathematics classes, its special education population struggles to achieve and graduate at acceptable rates, and its strict discipline appears to come down disproportionately hard on students of color. As it continues to evaluate its data and update its practices in these areas, the network continues to build new schools using the tools that it knows are most effective.
Despite its challenges, DSST is notable for disrupting the dated and discriminatory notion that low-income students and students of color cannot achieve at the highest levels, and for doing so in an environment designed to interrupt the racial and economic boundaries that too often divide young people. Its innovations in science and math education, creative introductions of real-life work into academic settings, tools like advisory and morning meeting that build community and comradery amongst diverse students, high student test scores, and perfect college acceptance rate cause DSST to stand out among charter networks.
Notes